Princeton Reverb
I haven't released any mod kits yet for the Princeton Reverb reissue, but these wonderful little amps suffer from a common problem: cabinet resonance and vibration on the low notes.
Most often the problem is the baffle. The easiest fix is to get some heavy aluminum angle stock from a hardware or home improvement store and screw it across the top of the baffle on the inside. But the baffle board is made of medium-density fiberboard (MDF), which is not noted for holding screws particularly well. So I came up with a slightly different solution: I routed a 1/8 inch slot about 3/16 inch deep into the baffle and epoxied a piece of 1/8 by 1 inch aluminum into the slot.
Here's what it looks like: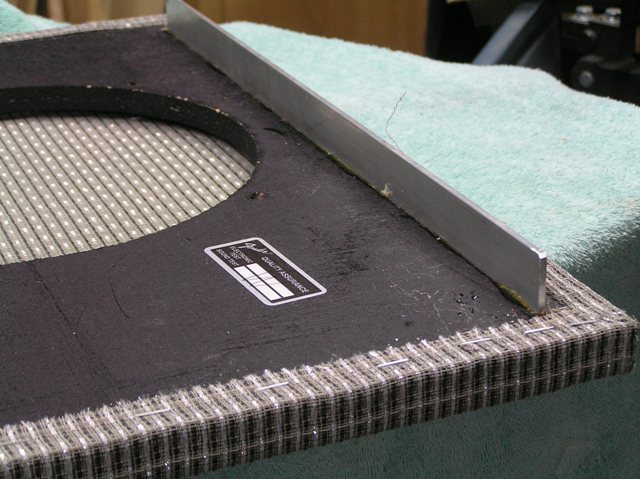 You get far more stiffness from height than width, and the result is exactly what you'd expect: It. doesn't. move.
Before adding the bar, the panel would vibrate visibly and resonated loudly on low E through F#. Now it's rock-solid. If you have a PRRI and a router, this is a relatively quick and easy fix. You need to set the router height from a pair of spacer bars and keep the router base off the baffle itself. otherwise it will lift up when it gets to the grille cloth and won't be uniformly deep.
After I tested the amp with the baffle stiffener I heard a new, higher buzz, up around Ab or A. It was the upper back panel. I routed a groove in it, as shown below: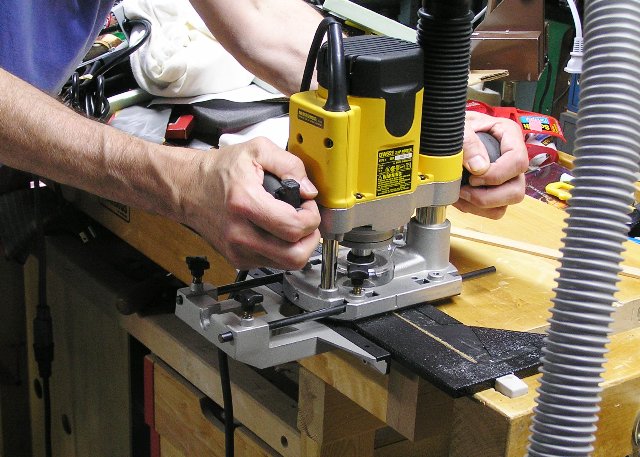 This time I used a piece of oak to stiffen the panel. I happened to have this piece around from another project and it was the right size. Here it's being glued in, using Titebond wood glue.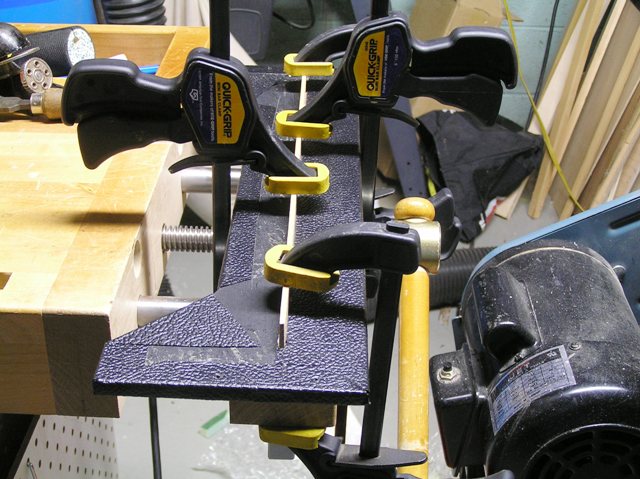 Here's what the finished product looks like: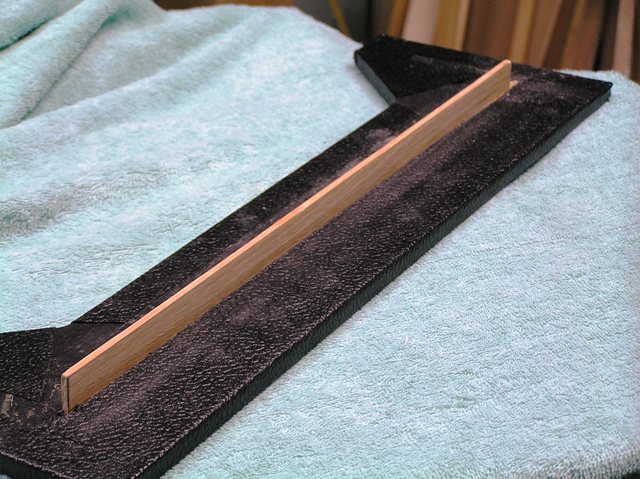 As with the baffle board, it's completely rigid. The height is much more important than the thickness in providing stiffness, and even a 1/8 inch piece of oak is not going to flex. The Princeton Reverb cab is now silent.