EL84 vs. 6V6 vs. 5881
I recently converted a Blues Junior to octal output sockets so it could run 6V6 or 5881s instead of EL84s. I'd done a couple of these years ago, but I had to ship one to Italy and the owner of the other one traded it away for a guitar, so I never got much time to dig in and experiment. I've had more time with this one and have some additional thoughts about output tubes.
As I mentioned on the "Very Special Blues Junior" page, output tube performance is largely about surface area. The more plate area you have for the electrons to hit, the more power you can push through the tubes. Of course, the cathode has to get bigger to emit more electrons, and the heater has to consume more power in order to boil off the additional electrons. That extra heater/filament power is often the reason that you can't put larger tubes into an amp that is maxing out its power transformer. The transformer can overheat and the the voltages in the amp can sag under load as you increase the volume.
I was concerned about heater load when I did the conversion, and wondered if I would be limited to 6V6s or whether I could go to a bigger tube in the same family, namely the 5881, also known as the 6L6GB. The 5881/6L6GB has a maximum plate dissipation of 23 watts, compared to the 30 watts of a 6L6GC. So I did some measurements of filament power consumption. Here's what I found:
The stock EL84 is supposed to draw 700 milliamps of filament power. I tested a bunch of them and they all drew between 830 and 845 mA. 6V6s are roughly equivalent to EL84s electrically, but they were designed for 1950s car radios, so the filament is designed for 450 milliamps to help conserve the battery. This table shows what I actually measured for a single tube:
| | | |
| --- | --- | --- |
| Tube | Heater draw, mA | Plate dissipation, W |
| EL84 | 830 | 12 |
| GE 6V6GT | 580 | 14 |
| Electro Harmonix 6V6GT | 560 | 14 |
| JJ 6V6S | 650 | 14? |
| Tung-Sol 5881 | 980 | 23 |
As you can see, the EL84 is almost as power-hungry as the 5881, but is only about half as powerful in terms of wattage. The NOS GE 6V6 and the current-production EH 6V6 are essentially the same in power draw. This is a small sample, but it appears that 6V6s never quite met the 450mA spec.
The JJ 6V6-S is an interesting case–it draws more heater current, but not as much as the 5881, yet its plate structure is almost as large as the 5881. I'm sure it's capable of higher output than the traditional 6V6GT. It's often used in 40-60 watt 6L6 amps where players want less power and headroom, earlier breakup. Among 6V6 tubes, it's the only one that can handle the high plate voltages of these amps.
In these pictures, you can see the plate sizes and get a feel for where the power handling comes from: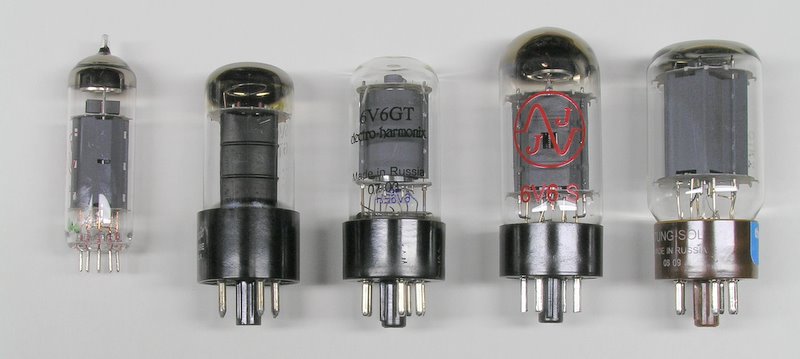 From left to right: JJ EL84, GE NOS 6V6GT, Electro Harmonix 6V6GT, JJ 6V6-S, Tung-Sol 5881. When we turn the tubes a bit, you can get a better idea of the difference in plate size: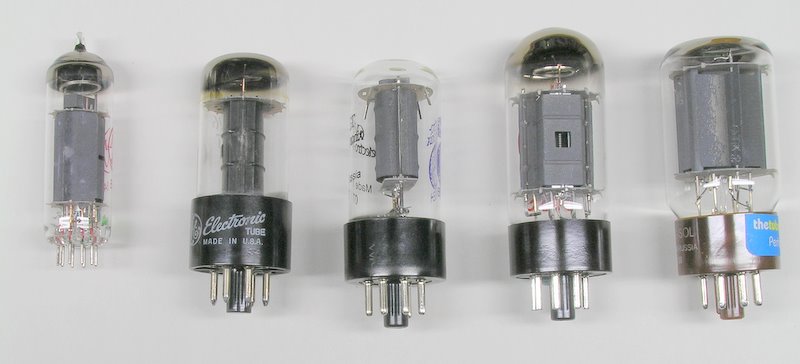 The EL84 packs as much plate as it can into its noval (9-pin) envelope. The 6V6GTs are thin, but the 6V6-S and the 5881 have large, boxy plate structures that gives a lot of surface area.
Putting larger tubes with higher wattage ratings into your amplifier won't automatically give you more power or a louder amp. The actual output power is determined by the power supply, the output tube, and the output transformer. But larger plates generally mean better bass performance. But running a "big" tube designed for higher voltages at a lower point on its operating curve limits its headroom and provides earlier/different distortion than you'd experience at higher voltages. In fact, you could put 6L6GCs in there because they have the same nominal 1000 mA heater draw as the 5881/6L6GB. But the additional plate area won't help because the power supply really does run out of gas at some point. The 5881s can't produce maximum power, so larger tubes won't either.
In terms of my Blues Junior mods, it comes down to this:
The Blues Junior has enough power supply headroom to run larger output tubes
The greater current draw of the 5881 does not cause appreciable high voltage sag
If you go for octal socket conversion, there is no reason not to run 5881s as opposed to 6V6s
With other mods in place, maximum output is bumped to around 25 watts, limited by the power supply
The JJ 6V6-S bears further investigation. It consumes less heater power than an EL84 but has significantly larger plate area. In the future, I'll do some power/tone comparisons with the 5881, but it appears that the JJ would be a great choice for 2 x 6V6 amps like the Princeton Reverb, Deluxe Reverb, and Super Champ XD.