A Very Special Blues Junior — Updated!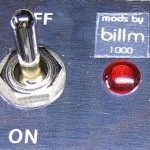 This is the 1000th Billm-modded Blues Junior.
Or as close as I can figure, given the number of components I've ordered over the years, shipping records, etc.
I decided to pull out all the stops on this one. I started with a basic black Blues Junior, the perfect platform for a stealth amp that can blow away some much more expensive hardware.
It's got
Basic mods — tone stack, power supply stiffening, adjustable bias
Presence control
TwinStack
Heyboer output transformer with 4/8 ohm switching
Audio-taper reverb control
Clean Boost
Clean Boost/Fat footswitch control
Aux speaker jack
Line out jack
Cathode follower tone stack driver
Standby switch
Higher preamp voltages for more headroom
and octal power tube sockets for 6V6s — or 5881s!
Here's a shot of the innards. You can see where I removed the ribbon cables and wired in a pair of ceramic sockets. I used Amphenol military-grade ceramic sockets, which are probably indestructible, but were kind of a pain to install.  As you can see, I've got Tung-Sol reissue 5881s installed for testing… and they are awesome!
Update: I've upgraded #1000 with the new TP24 power transformer and TO26 output transformer. It now puts out 30 watts of clean power, sounds like a Deluxe Reverb running 6L6s or the cleanest Blues Deluxe you've ever heard, with effortless, Fender-y loudness. All the Blues Junior breakup tones are there too, but smoother, less grind-y. It's a surprisingly big sound from such a small package; I'm loving it!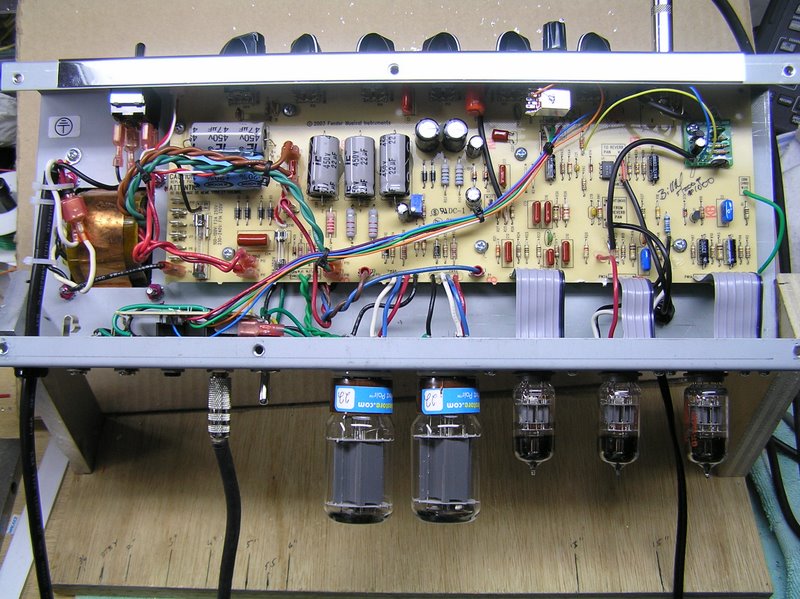 The EL84 and the 6V6 were designed to be electrically equivalent to one another, but they go about it different ways. The 6V6 is actually a 14 watt tube, while the EL84 is rated at 12 watts. The 6V6 has more plate area, and like its brother 6L6, is actually a tetrode (four elements) with a special plate inside that focuses the electrons into a beam for maximum efficiency. The EL84 is a pentode, and it makes up for its smaller size by running hotter and using a suppressor grid instead of beam-forming plates. But output tube performance is all about plate area and current. Because of the socket and bias differences, it's not easy to directly compare an EL84-based amp to a 6V6 equivalent, but I can easily compare this one to other Blues Juniors.
The 5881s have even more plate area, which really helps bass response as well as maximum power. The 5881 is also known as the 6L6GB, the version that preceded the current version, the 6L6GC. The 5881 is nominally a 23 watt tube and the 6L6GC is a 30 watt tube.
The 6V6 consumes less filament current than the EL84; the 5881 consumes more. The question is, will the 5881 overtax the Blues Junior's power supply? And is the Blues Junior's 330V plate voltage enough to extract power and tone from the 5881, or will it run out of steam? After all, 5881s are rated for 360V operation and it's customary in guitar amps to run them at around 400V. Power (watts) is volts times amps, so if you increase the voltage, the current goes down. And you tend to get cooler-running power and output transformers with the high voltage/low current formula.  So I monitored thermal rise closely when I installed the 5881s. I'm happy to report that even after hard running, the power transformer was just comfortably warm and the Heyboer OT hadn't shown any signs of heating. I've got more about octal tubes, output power and power consumption here.
Power transformers are limited in the amount of volt-amps they can deliver. When they run out of steam, you get voltage sag. Going full out into a dummy load with 6V6s, there is no sag. With 5881s, the sag was just a few volts. I was frankly surprised that the BJr power supply performed that well. I've seen more sag in Princeton Reverbs, and the power transformers in many blackface and silverface Fenders get uncomfortably warm.
OK, so it's not going to blow up. How does it sound? In a word, heavenly.
Here are some sound files, recorded while a local blues phenom whom I know only as "Matt" sampled the amp. He brought his own Tele, heavily customized to his preferences. These recordings started loud, went louder, with serious ear ringing after an hour or so.
1. Playing first through a modded Billm Blues Junior with EL84s and stock OT, then #1000.
2. Playing with heavily scooped tone controls, then turning on the Clean Boost.
3. Some dirty, bassy blues, tone rolled back on Matt's Telecaster.
4. Some riffs on "Ghostriders," really loud.
1000 loud ghostriders noodling
With 6V6s, the output power is about the same, maybe a watt or two higher at full bore. But the larger plate area makes the bass performance noticeably better than even an "improved" Blues Junior with power supply stiffening, tone stack, and Heyboer output transformer. With no other changes, plugging in the 5881s make the amp 2-3dB louder and gives you the kind of bass thump you'd expect from a much larger amp.  Flat out, it puts out an honest 25 watts clean (5 percent THD). Despite the big bottles, it's still not going to go toe to toe with a Hot Rod Deluxe, but it can edge out a Princeton and hang with a Deluxe Reverb effortlessly.
The thing that surprised me most about the tone is the touch sensitivity. I expected more clean headroom and I got it. Yes, the amp still gets crunchy between 5 and 7 on the volume control, as a BJr should, but it's louder than a stock amp at that point. And the power tube crunch comes on in a whole different way, more gradually, right in line with the energy you're putting into the strings. The Clean Boost helps deliver the extra kick to the output tubes to make this even more evident, but even with the Clean Boost off it feels like a $1500-class amp. I did all the bench testing with an Eminence Swamp Thang, but I was pleasantly surprised when I put the amp back together with the stock Fender Special Design speaker: solid bass, sweet highs, nice transitional midrange, and smooth progress from clean to dirt.
The cathode follower mod is supposed to increase touch sensitivity by taking the load off the previous preamp stage, so that it performs the same regardless of tone stack settings. That appears to be the case, but it's not an easy thing to verify other than by playing the amp and saying "Wow!"
Beyond dirt and breakup, the highs are higher and sweeter, the lows are more powerful, and there isn't a hint of boxy.
I also decided to leave the stock Accutronics reverb tank in place. I tested it with the Ruby tank and I could go either way, but the bright, percussive stock reverb just felt more in keeping with the amp's personality and the audio-taper control lets me bring it in much more gradually than the stock control.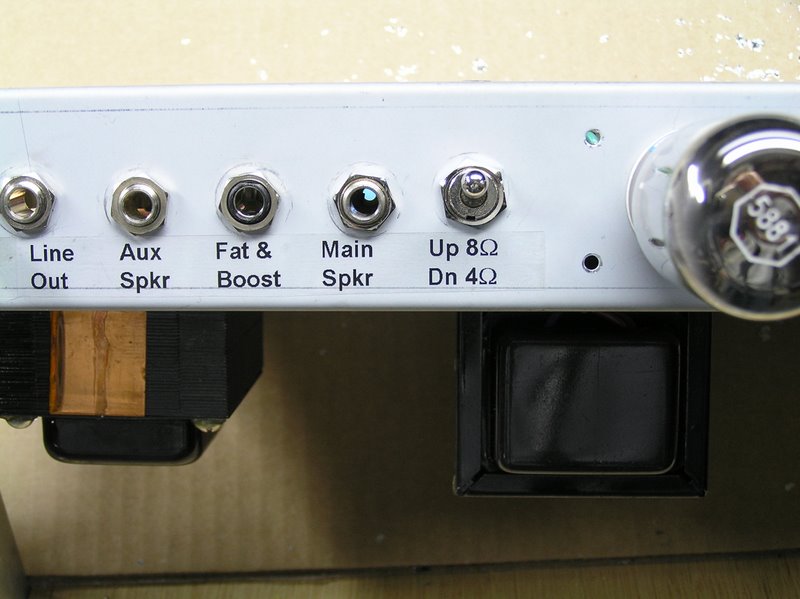 Here are some of the other mods–you can see the Heyboer output transformer, impedance switch, the additional jacks, and the Fat/Clean Boost jack. I've converted it to a stereo jack, so you can use a 2-button footswitch to control Fat and Clean Boost independently.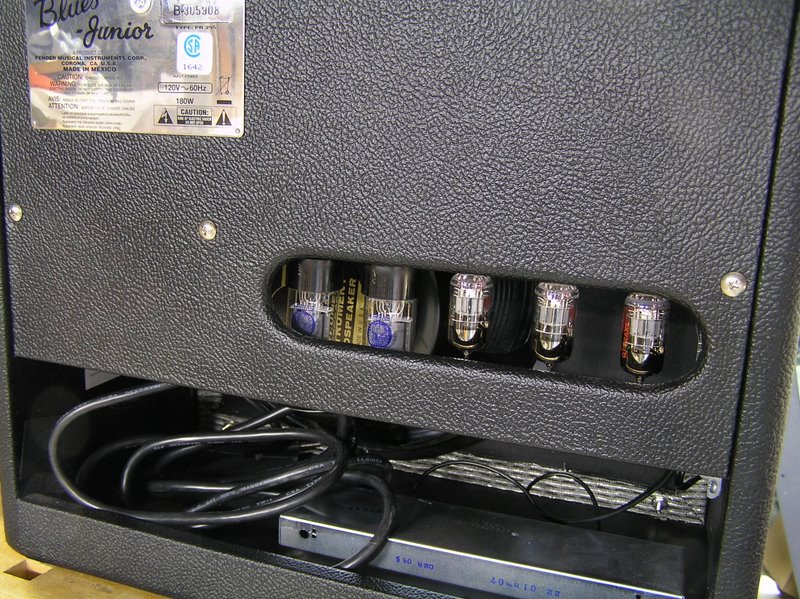 Here's how it looks with a couple of EH 6V6s–bound to surprise the casual Blues Junior owner who peeks back there!
I'll probably play some more with screen resistor values because they affect the feel of the output stage, but I've gotta say that it sounds pretty darn good.
Now I just have to figure out what do do with it. I need another Blues Junior like John Mayer needs girlfriends. It doesn't make sense to keep it with my demo amps, because I suspect that most people aren't going to want to go this far.
What a good problem to have.