Standby Switch for Blues Junior
By popular demand! People have been asking me for years for a standby switch on the Blues Junior, and here it is. I've seen a couple of implementations over the years, but they typically used an on-off-on switch with standby on one side and play on the other–kind of a kludge. Also, they involved cutting into the high-voltage wiring. I don't like creating possible points of failure.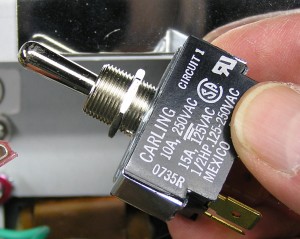 There isn't room inside the chassis for another switch next to the power switch, even if you relocate the pilot light. Yes, you could cram a cheesy little switch in there, but we're talking high voltage here, and only a heavy-duty switch will do. Fortunately, Carling, the same company that makes the power switch that's in your Blues Junior, makes a clever progressive switch. It has three positions: off, standby, on–very logical. In standby, the high voltage supply is cut off. The filament and bias supplies receive power.
The kit is super-easy to install. There's no soldering and–if you're sensible enough to unplug the amp before you start–no danger. I supply everything you need: the switch, high-voltage wire, and a special connector, plus photo instructions. You can be back up and running in minutes.
Even though standby switches aren't really necessary on low-powered amps, I've gotta say… it's pretty cool! It's a handy way to mute the amp when taking a break or when changing guitars. And even with the Billm cooler bias, the output tubes do run even cooler on standby.
The kits are available now. Order from the Mod Kits and Services page.
The kit does not work for the Pro Junior. The switch can be adapted, but requires removing the circuit board and doing some soldering.