Bad Filter Caps in 2003-2004 BJrs
I've got yet another Blues Junior on the bench with bad filter caps. In this one, all three of the 22?F filter caps had leaked. The owner had sent it to me with a note requesting the usual mods, plus a rather plaintive "… and maybe you can find out why it hums while you're in there."
Virtually all of these failures are on rev. C (2003 or newer) cream boards, and they're almost always the 22uF filter caps, not the larger 47uF. They're not stressed very hard in the Blues Junior, so I think that Illinois Capacitor (the IC brand) cranked out a bad batch of caps. The leakage looks like tan foam or glue, right around the + lead of the cap. Sometimes it drips onto the circuit board.
The symptoms may include hum, buzz, or high-frequency oscillation. Or sometimes a dirty, raspy edge to the notes that just doesn't go away. If your Blues Junior exhibits any of these symptoms, definitely check out the filter caps.
Here's another recent example: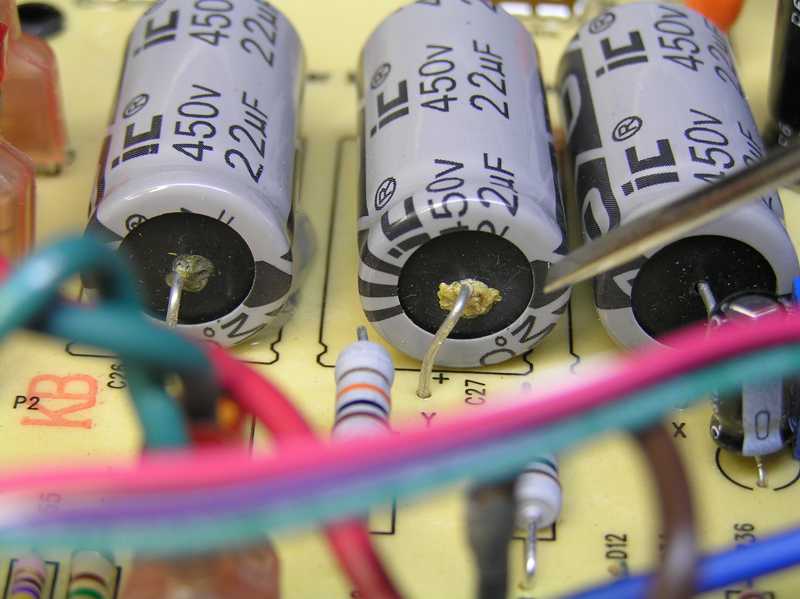 In the photo above,  two caps out of three have failed. The one on the left doesn't look too bad, but it's gone. The one in the center is worse.
If you've got this condition in any of the caps in your Blues Junior, you should replace all of them. And if you find this condition in your BJr, I'd appreciate it if you'd let me know–drop a post below. This is a warranty condition if your BJr is less than five years old, but if you're planning to mod it anyway, you might as well replace the caps with better-quality caps such as Xicon or Lelon (which I use), Nichicon, or F&T.