Aftermarket Knobs: Bad Idea … and the Fix
The Blues Junior and Pro Junior have plastic-shaft potentiometers that are soldered to the board, but do not attach to the face plate with a nut. They use a special chickenhead knob to stabilize the shaft and prevent breakage. This is not a great design, but it is what it is. Fender doesn't make any new amps, even inexpensive ones, this way anymore.
Aftermarket chickenhead knobs come in pretty colors, but don't have the stepped flange at the bottom that prevents damage to the shaft. They also feel very wobbly and imprecise. Here's an illustration of how easy it is to bend the shaft.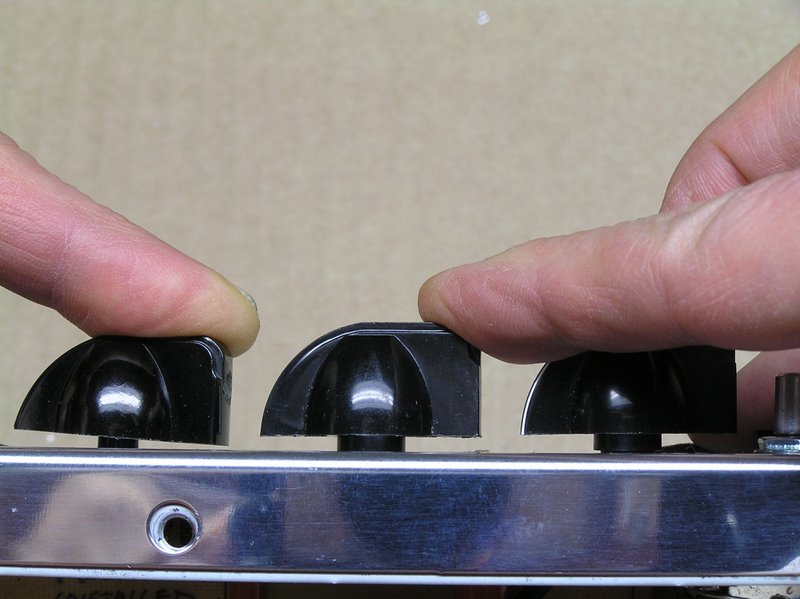 Also, since there's nothing to prevent the shaft from being pushed in, any pressure on the knob or dropping something on it can easily break the fiber wafer that forms the back of the pot.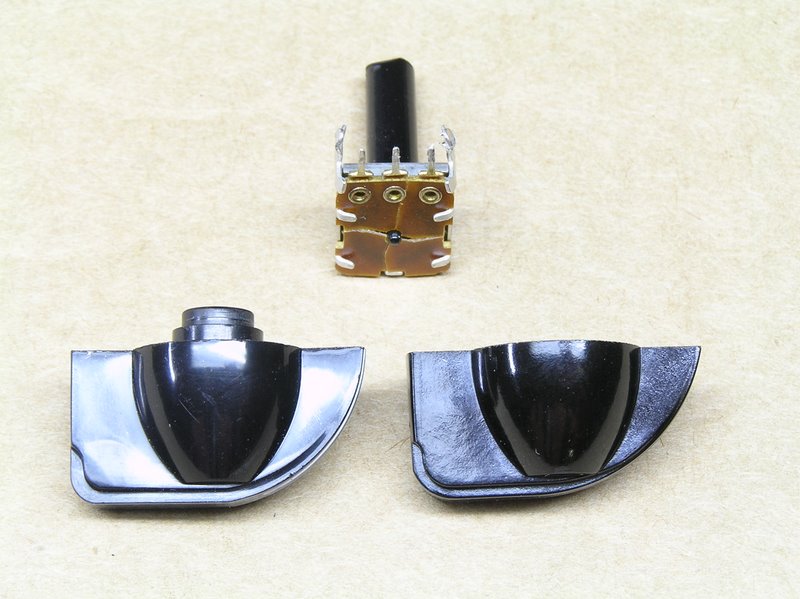 Here's a detailed look at the stepped skirt on the stock knob and an aftermarket knob, which attaches with a setscrew. Above them is a pot that had an aftermarket knob on it. The owner leaned over to adjust it, lost his balance, and put too much pressure on it. It doesn't take much.
The stock knobs sometimes don't fit as well as they should. Here's an example of an amp that came in for mods. One knob was too tight and simply would not go all the way down: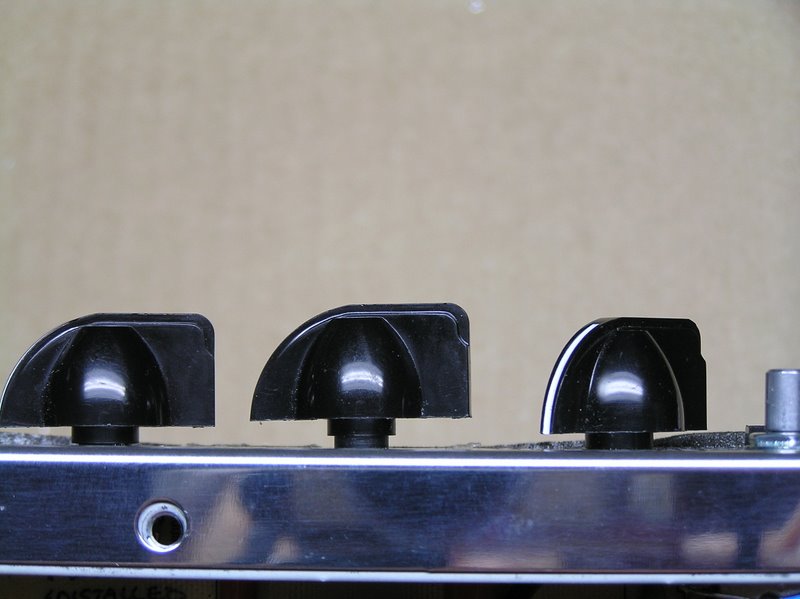 This is just as bad as an aftermarket knob–lots of wiggle, no protection for the pot or shaft. Here's the solution: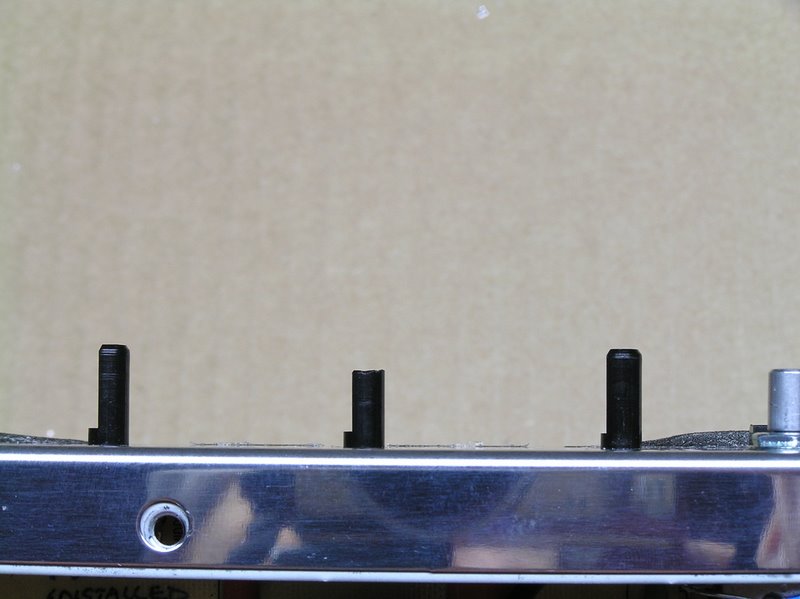 It may seem crude, but trimming 1/4 inch or so off the end of the shaft is the quickest way to get the knobs to engage the hole in the faceplate and rest fully on it.
Don't risk pot breakage with aftermarket knobs and make sure that your factory knobs fit properly. The feel of the controls is much better and your amp will stand up to rough treatment on the road.
Update:
When Fender did a run of the Texas Red Blues Juniors, they just stuck cheap aftermarket white chickenhead knobs on it, with no regard for stabilizing the shaft. Here's what happened to a Texas Red as a result: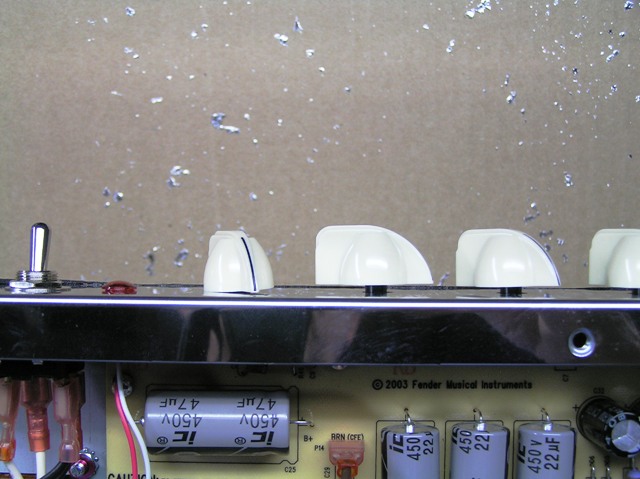 The reverb and volume knobs both got smashed down and both blew out the pots, as you can see here: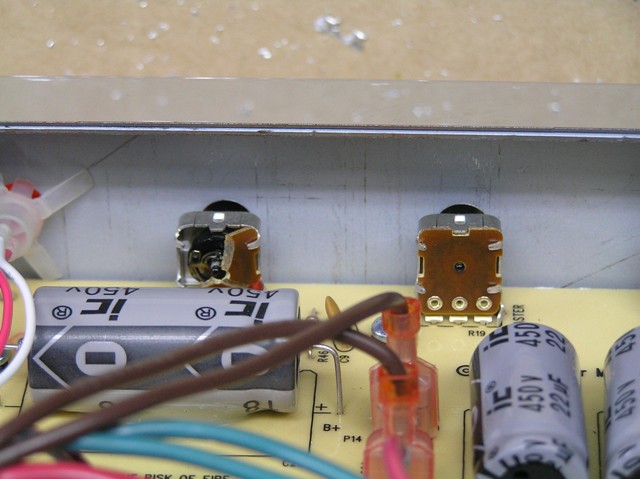 After I replace the pots, I'm going insert spacers to provide protection in the future.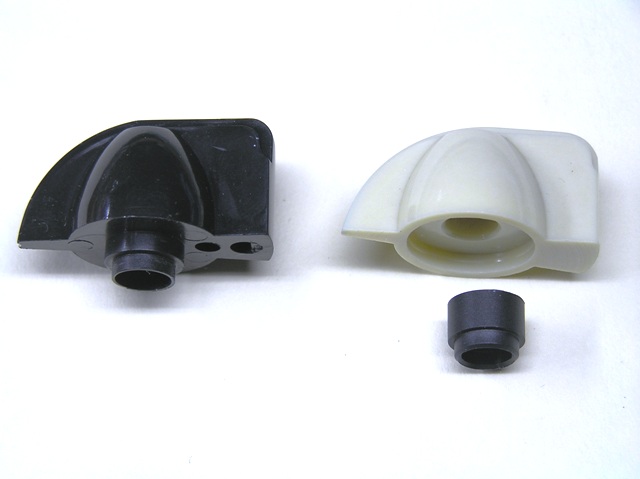 The bushing fits the shaft and the panel hole perfectly. It stabilizes aftermarket knobs and protects the pot.
You can order from several sites online; I got some from Antique Electronics (www.tubesandmore.com):
https://www.tubesandmore.com/search/node/fender%20knob%20spacer